Britta's Review Of "Noah"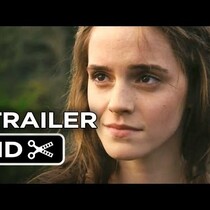 Posted March 31st, 2014 @ 12:00pm
OK....here goes.
I saw the new movie "Noah" yesterday (3/30)....I will say that they did feature the 7 days of creation....Adam & Eve.....Good & Evil....all the animals....and some un-earthly-fallen-angel-rock-transformers-like-creatures (that you DON'T see in the movie trailer)
I did like: The cool movie graphics....and how "Noah" had deep issues with how he could let his own family live....while letting others die......(We all sin right?) Well that's the issues Noah was having in this movie.
I didn't like: The Transformer-Like Rock Creatures.....and how his mental struggle almost took him to almost murder his new-born grand babies. I also didn't like the wardrobe choices in this movie....errrr....I mean....I WOULD actually wear some of the sweaters and pants they had on (they were cute). (but sweaters and pants?!?!? that's not in the Bible!...or anywhere in our Earths BC human history)....and some other issues I had with some of the the "scripted" story. (I don't want to ruin the whole thing for you)
Over All: I thought that it was an exciting story with drama, great graphics....but it was just that... a story... a movie.
The Writer and Director were out to make a movie that would make $$$....and it has. It is the #1 movie of the weekend in the Box Office ......for me.....not so much.
Please see the movie and make your own view. ~ Britta