Miranda Lambert Teases Forthcoming Single, 'It All Comes Out In The Wash'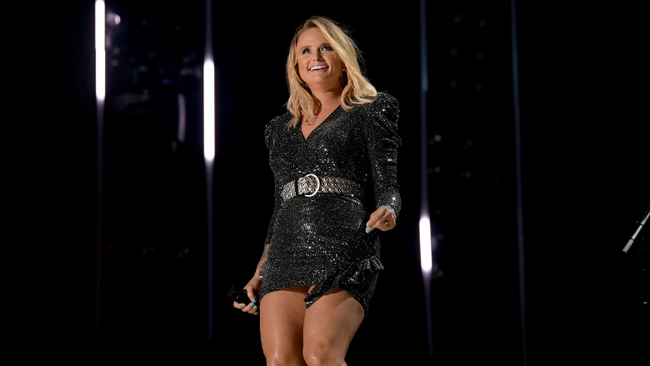 More Miranda Lambert music is officially coming! Lambert just recently announced her new forthcoming single titled 'It All Comes Out In The Wash' is officially set to drop next Thursday, July 18.
To announce the big news to her fans, Lambert shared a sneak peak "Glam Jam" video (as she liked to call it) on her Instagram. The video shows her mouthing the words to the new song into an old-school phone with her team on backup vocals. The track was a co-write with fellow songwriters "The Love Junkies," including Lori McKenna, Hilary Lindsey, and Liz Rose.
"Y'all! My new single 'It All Comes Out In The Wash' comes out next THURSDAY JULY 18th! #putthatsuckeronspin #GlamJam (Also stay tuned for some awesome new things with the legendary @ellenvonunwerth) Written by yours truly and the Love Junkies! @lorimckennama @lizrose0606 #hilarylindsey"
This news comes just about a month following her live surprise debut performance of her new song "Locomotive" at Nissan Stadium during Nashville's CMA Fest. This was the first song released from Lambert's forthcoming album, giving fans a taste of what's to come. In a recent interview with the Chicago Sun Times, she describes her new album as "old Miranda, but a Miranda at a whole new level, if that makes any sense." She continues on to say, "It's not going to be love song overload or anything like that. I made a career on being a rock and roller and I think fans are going to hear that throughout. And yeah, there is this vibe of being happy that goes through this album. I am really, really happy."
If her new album is anything like her single's sneak peak, I'd say we're in for some classic, good ole spunky Miranda Lambert. Check out the short Instagram video of 'It All Comes Out In The Wash' below and stay tuned for July 18 to hear the full track once it drops.
Photo Credit: Getty Images